Micro-certification
---
A

Micro-certification 

is a certification of skills or a component of a formal qualification.
It can be broken down into smaller thematic units called microcredentials. A set of stackable microcredits can be used to obtain a micro-certification.
The length of a micro-certification course ranges from 135 h to 405 h (3 to 9 units)
Why sign up for a micro-certification?
to have my skills recognized;

move towards a career change;

develop new skills required by employers in areas of high demand in New Brunswick;

offer more flexibility in learning

.
Targeted training allows you to:
obtain a micro-certificate;
re-enter the labour market;
pursue learning;
obtain a post-secondary diploma or certificate.
A digital badge
is a virtual image;
is associated with a micro-certification;
can be used to recognize learning and skills;
can be shared with employers for recruitment or talent management purposes.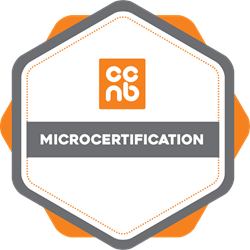 I am an employer looking to …
fill positions;
target qualified candidates;
respond to workforce recruitment challenges.
CCNB can :
Design a micro-certification in collaboration with your sector of activity and according to the skills sought in your workplace.
Assist in recruiting qualified candidates.
South-Est - Dany Losier : 506-899-4442
North-East - Jonathan Tower : 506-547-7401
Restigouche - Yvan LeBlond : 506-789-2261
North-West - Louise Martin : 506-740-2363