CSA_ - Community Services Worker
CSA_ - Community Services Worker
---
CSA_ - Community Services Worker
Affaires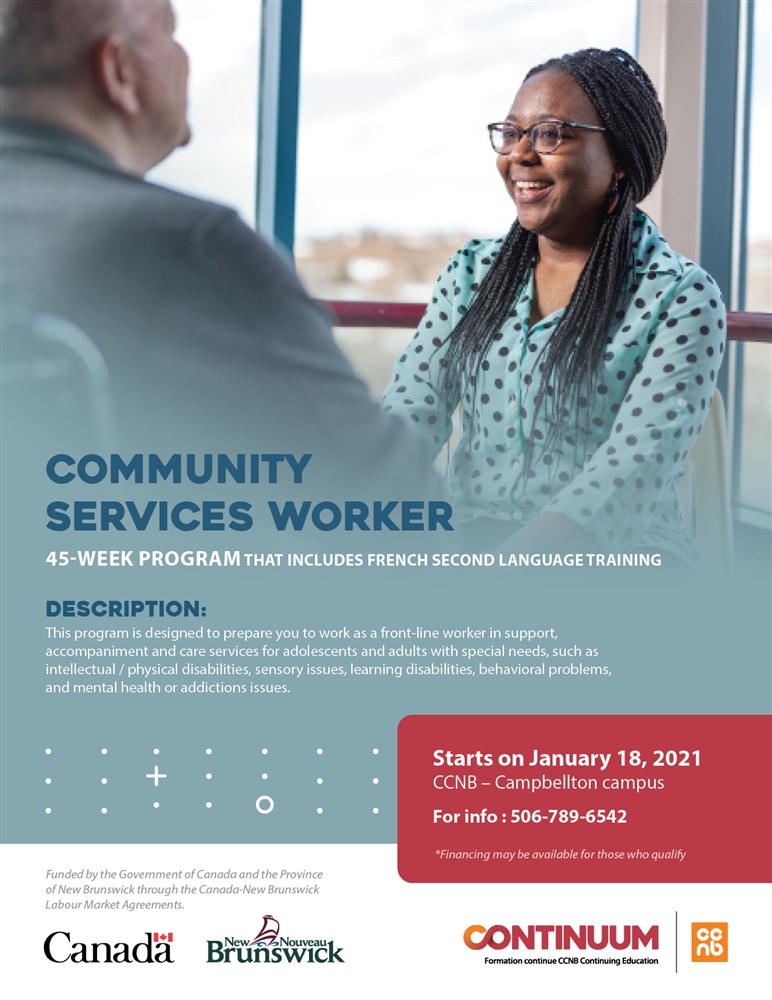 Description
The Community Services Worker program is designed to prepare the student to work as a front-line worker in support, accompaniment and care services for adolescents and adults with special needs, such as intellectual / physical disabilities, sensory issues, learning disabilities, behavioural problems, and mental health or addictions issues. The community service worker ensures that the client in question will be reached through basic individualized service plans that the assistant will have developed under the supervision of the interdisciplinary team.
Durée du programme
40 weeks including work practicums.
Objectifs
Demonstrate professional behaviors appropriate to workplace ethics
Demonstrate the knowledge and skills necessary to act as front-line assistants to adolescents and adults with special needs
Exercise judgment and critical thinking
Promote the social role of the adolescent and adult by promoting an environment and an atmosphere that respects self-determination and human dignity
Ensure that adolescents or adults can develop or regain their autonomy and self-management of their lives
Help raise awareness of the needs and living conditions of teenagers and adults with special needs
Understand the impact of stigma and etiquette on the identity of the adolescent or adult with special needs
Promote the inclusion of the individuals in all spheres of their lives
Demonstrate effective communication skills with the adolescent / adult and family, as well as with all members of the interdisciplinary team
Establish meaningful interpersonal relationships with teenagers and adults
Participate, with teenagers or adults and their families, in the development, implementation and evaluation of individualized service plans
Provide support to the teenagers or adults and their loved ones
Express oneself in a suitable spoken and written language
Write concise notes, and other reports
Exercise one's work safely and effectively, in collaboration with adolescents and adults, their families and the interdisciplinary team involved
Work in partnership with various community organizations
Conditions d'admission
Profile A
High School Diploma (regular courses, modified courses, or a combination of both) or Adult High School Diploma

Or

"Diplôme d'études secondaires (PCE—see notes 4 and 5)"

Or

"Certificat en compétences essentielles appliquées au programme (PCEA)"

Or

GED
Details related to admissions
Any transcript containing adapted level or "Programme de compétences essentielles au marché du travail (PCEMT) " courses will be subject to additional assessment.
Applications from individuals 21 years or older who do not have a high school diploma will be subject to additional assessment.
An individual who has completed mathematics courses prior to the new mathematics paths A, B, and C, should consult the guidance counsellor of the CCNB campus where the program is offered in order to determine eligibility toward the chosen program.
The "Programme de compétences essentielles (PCE)" is a specific high school path which prepares the student for enrollment in one or several pre-established programs leading to one or more trades.
The application of an individual who has obtained a high school diploma with courses from the "PCE", and who wishes to change to another field of training, will be subject to an additional assessment.
Aperçu des matières
Addiction Disorders
Animation
Community Care
Community Services
General First Aid in the Workplace
General Health Care
General Psychology
Intervention Methods
Learning Diasbilities
Leisure Activities
Mental Illness
Non-Violent Crisis Intervention
Prevention Techniques
Writing Fundamentals
Renseigements additionnels sur la formation
Student enrolled in this program will have to deal with the realities of profession:

The student may have to travel to an areal other than the campus offering the program or permanent residence to do the internships. His travel and related expenses are his responsibility. He may also have to comply with an irregular work schedule. In addition, some internships may require French language skills.

Students enrolled in this program must, at their own expense, apply to have their criminal records verified with the local police force through the Canadian Police Information Center (CPIC).
Students must be able to justify at their own expense a clean criminal record if they wish to maintain their eligibility for the practicum as well as certain educational activities.

Students must submit proof of a medical examination and immunization record in accordance with the guidelines fo the Collège Communautaire du Nouveau-Brunswick standard medical form and the specific requirements of the practicum environment.

Students are responsible for submitting their evidence and related fees

Sanction des études
Aussitôt qu'il satisfait à toutes les conditions du programme, l'étudiant se voit décerner a certificate en Community Services Worker
Profil étudiant
This program might interest a person who:


Wants to help people in difficulty of adaptation
;
Has an interest in community involvment
;
Wants to intervene in a context of daily life
;
Wants to play the role of intermediary between a persons in difficulty and their families
;
Has a sense of anlysis and synthesis
;
Enjoys working in a team while showing autonomy
;
Has the will to take up challenges
;
Structure du programme
Learning Disabilities
Technical Writing
Addiction Disorders
Deficiencies and Different Approaches
Suicide Intervention Techniques (ASIST)
Prevention, Delinquency and Crime
Introduction to Method of Interventions for people with special needs
Intergration Practicum adolescents - Community Services Worker
Intergration Practicum Adults or Seniors - Community Services Worker
Recovery-Based Model of Care
Introduction to Health, Prevention and Treatment of Disease
Food Safety - BASICS.fst® Certification
Laboratory of Introduction to Basic Care in Community Services
Observation Methods
Health and Wellness
Introduction to Mental Illness
Overall Development of Adolescents and Adults
Introduction to Autism spectrum disorders
Introduction to General Psychology
Human Relations I
Lift and Transfer Techniques
Workplace Standard First Aid with Level C CPR
Nonviolent Crisis Intervention
Work Safely
Intervention Techniques for Families
Community recreation and group dynamics
janvier 2021
Débute : 18 janvier 2021
45 weeks with french second language training
3880,00 CAD
CCNB - Campus de Campbellton
15
En ce moment, il n'y a aucun groupe de prévu. Inscrivez-vous à notre liste d'attente.
Ça m'intéresse!
---